Tunisia is the northernmost country in Africa with an area of 163,610 sqkm. It borders Algeria to the west, Libya to the south and east, and the Mediterranean Sea to the north.
With over 1000 km of coastline, it has a strong tradition of commerce and openness to the wider Mediterranean region. The country also holds a strategic position as a bridge between Europe and Africa, with this location influencing the development of the country's supply chain and trade links.
The measures implemented by the first republic helped Tunisia to establish itself as a leading regional example for modernisation and development. Following the 2011 Jasmine Revolution, Tunisia rose to become a leading example of a successful post-Arab Spring democracy.
To overcome economic hurdles, a host of structural reforms is being implemented and improved performance in some of the country's key sectors, including oil and gas, are helping to bring some relief to the economy.
Oil and gas exploration began in the early part of the last century with the first discovery in 1964 and later put into production in 1966.
Tunisia has proven oil reserves of around half a billion barrels and has oil production from both onshore and offshore fields. The Tunisia oil production has reached a peak of 120,000 bbls/day in the late seventies further to the discoveries of El Borma field in the South and Ashtart offshore field. Later, exploration activities have continued over the most prolific basins in Tunisia and led to many oil and gas discoveries in Ghadames, Gulf of Hammamet, Gulf of Gabes and Pelagian platform basins.
Currently, more than 50 oil and gas production licenses and over 20 exploration permits are being managed by foreign companies, most of them in association with the Tunisian National Oil Company (ETAP).
The 2020 Tunisia average daily production is expected to be in the range of 40,000 bbls/day and 5.0MMSCMG. Although modest compared to its neighbours, oil production continues to be an important part of Tunisia's economy.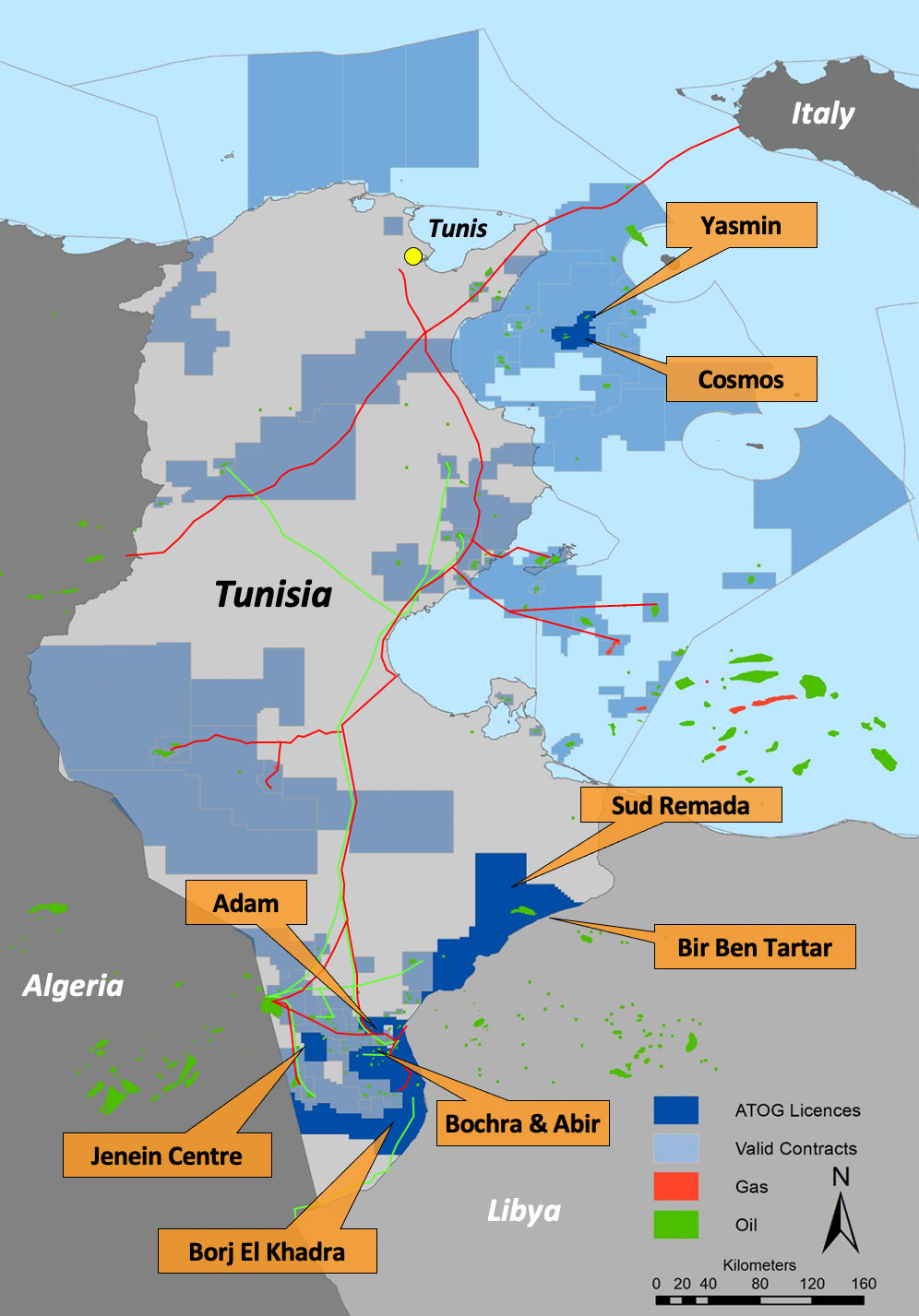 The Oil and gas industry in Tunisia is managed by the Ministry in charge of Hydrocarbon sector, Ministry of Energy and Mines and Energy Transition. The General Directorate for Hydrocarbon (DGH) is the structure in charge of the implementation of the policies.
Tunisia has one of the most favourable regulatory systems and business environments in Africa, and the Tunisian Hydrocarbon framework varies from one title to another pending on granting date. The current Hydrocarbon Code, promulgated by Law N° 99-93 of August 1999, governs all upstream and downstream activities, and it is being amended by the Tunisian energy authorities to be more attractive for investors and could include the exploration/development regulation for non-conventional plays.
ETAP, the Tunisian National Oil Company, acts as holder or associate, depending on the contract type (Production Sharing Contract or Association), in all exploration permits and oil and gas producing assets.
STEG, Société Tunisienne de l'Electricité et du Gas, is a national company in charge of production, transport, distribution, import and export of electricity. All Tunisian produced gas is being sold to STEG.
STIR, Société Tunisienne des Industries de Raffinage, is the unique refinery in Tunisia and supply's about half of the Tunisian domestic demand.
Tunisia has a well-established pipeline transportation system that connects most of the oil and gas fields. La Skhira terminal in Gabes, operated by Trapsa, is the main infrastructure for oil export that stores the oil coming from most of the Tunisian fields and has a storage capacity in excess of 2MMbbls.
STEG owns the El Borma gas pipeline that connects fields in the south to the coastal city of Gabes with a capacity of 1.2MMSCMGD. Recently, Nawara gas pipeline project (ETAP: 50%, OMV: 50%) has been finalized adding a daily gas transport capacity of 2.7MMSCMG from the South.